[caption id="attachment_83" align="aligncenter" width="200"]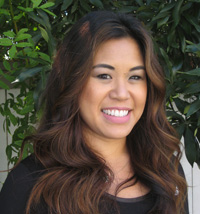 Staff Spotlight: Meet Joy[/caption]
All Smiles Pediatric Dentistry is excited to introduce Joy Cezar as the newest member of our team. Joy is a registered dental assistant with expanded functions, which means she'll be one of the people helping Dr. Job with your child's care. While she's new to our office, she brings with her 21 years of experience in dentistry. Her favorite things about her job are creating a positive dental experience for children and getting to work with the fabulous team here at All Smiles Pediatric Dentistry. We love working with her, too!
When she's not in the office, Joy spends her time working out, doing group runs, reading, and hiking. She also enjoys exploring Balboa Park, Downtown, and Coronado, and cheering for the Lakers!
At your next visit to our San Diego, CA office, make sure to say hello to Joy!