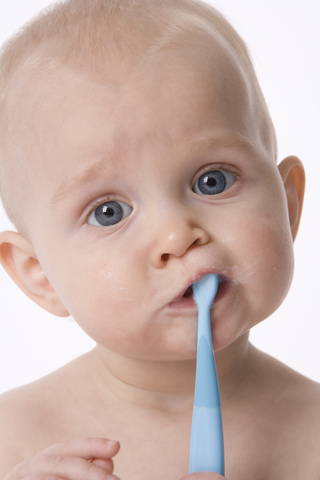 One question our team at All Smiles Pediatric Dentistry hear all the time is, "When should I start brushing my baby's teeth?"
You should begin regular cleanings even before your baby has teeth. After each breast feeding (or bottle-feeding) use a clean, damp washcloth to gently rub your baby's gum tissue. You may wrap the material around one finger to make it easier to remove any food bits from your baby's mouth.
When your baby's first tooth comes in, switch to a baby toothbrush. Look for special baby toothbrushes in your drugstore; they have just a few bristles and are very soft. There are even brushes shaped like finger puppets that fit over the tip of your pointer finger! All you need at this point is water (no toothpaste yet).
After a few more teeth appear, you may start using toothpaste, but you only need a tiny bit, and make sure it doesn't contain fluoride for the first two years. From the beginning, have your little one practice spitting the toothpaste out after brushing. That way, he or she will already have the good habit of spitting when you switch to fluoride toothpaste, which should never be swallowed.
If you have any questions about caring for your baby's teeth, then schedule an appointment at our convenient San Diego, CA office. Please contact All Smiles Pediatric Dentistry.
*This blog is part of the Baby Steps Series. Look for future blogs in this series.

Dr. Allen Job, DDS, MS, MPH, MS is a board certified pediatric dentist who practices in San Diego, California, where he specializes in prevention.  He is also an assistant professor at Loma Linda University Department of Pediatric Dentistry.