[caption id="attachment_629" align="alignleft" width="640"]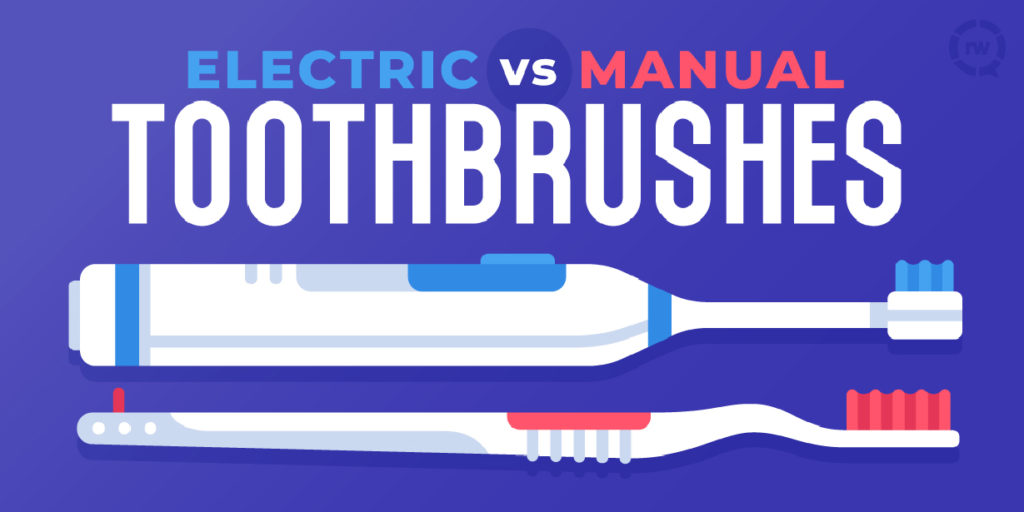 Electric vs Manual Toothbrushes[/caption]
This is one of our most frequently asked questions!
Our answer? It's not the brush that matters, it's who's doing the brushing.
Let's break that down. The goal of tooth brushing is to remove plaque from your teeth on a consistent (daily!) basis, so that we prevent the buildup of tartar which leads to tooth decay.
Manual Toothbrush
A manual toothbrush is a great and inexpensive tool that helps us do just that. Make sure to brush at least for two minutes per day, twice a day. Gently brush ALL surfaces and make sure to reach those back molars.
If you need some help with visualizing the proper techniques, here are some helpful recommendations.
Electric Toothbrush
For some people, it can be difficult to brush properly with a manual toothbrush. Those with some form of motor disability or arthritis may benefit from using an electric toothbrush. An electric brush can also be helpful for kids or anyone with braces.
The same tooth brushing rules apply – two times per day, two minutes at a time. One advantage of an electric toothbrush is that some have a built-in timer. If you're one of those quick brushers who has a hard time making it to two minutes, consider using a timed electric brush.
Round vs Rectangular
When picking an electric toothbrush, pick one that has a round brush head instead of a rectangular head.  A rounded brush head can more easily maneuver around teeth, especially those hard to get molars.
What about Battery operated toothbrushes?
You've all seen those cute battery operated electric toothbrushes with that are decked out in action figure brands or stylish colors.  Note, only some allow for battery replacement when they start to run low.  Moreover, very few allow the brush head to be changed.
An electric toothbrush would be recommended for long term use.  Just replace the brush head every 6 months.
Cost of Electric Toothbrushes
Some are deterred by the cost of electric toothbrushes.  They can range from $30 to over $130.  A solid $30 electric toothbrush can last over a decade with proper care use.
Take home message: When choosing an electric toothbrush, choose function over all the bells and whistles.
At your next dental visit, ask us whether we think you would do better with a manual or electric brush! And, as always, don't forget to floss!
Bonus: How do astronauts brush their teeth?
Here's a bonus video from astronaut Chad Hadfield, who is commander of the International Space Station.  He explains who he brushes his teeth while in space! Find out what type of toothbrush he uses in outer space!
At All Smiles Pediatric Dentistry, we incorporate proven techniques to share with you and your child at each dental checkup visit. Dr. Allen Job and his team are committed to providing the latest in oral health care prevention. For more information about brushing and flossing check out our preventive care page. Still want more information? Check out our blog posts on prevention! Our practice is centrally located in San Diego, CA.
Scheduling an appointment for your child is easy! Start here to schedule an appointment. All of our forms are online. Fill them out securely from your smartphone or tablet and hit send. On appointment day, your child will be seen at their scheduled time. For example, if you have a 9:00 AM appointment, your child will be seen at 9:00 AM.
Dr. Allen Job, DDS, MS, MPH, MS is a board certified pediatric dentist who practices in San Diego, California, where he specializes in prevention. He is also an assistant professor at Loma Linda University Department of Pediatric Dentistry.