[caption id="attachment_672" align="alignleft" width="640"]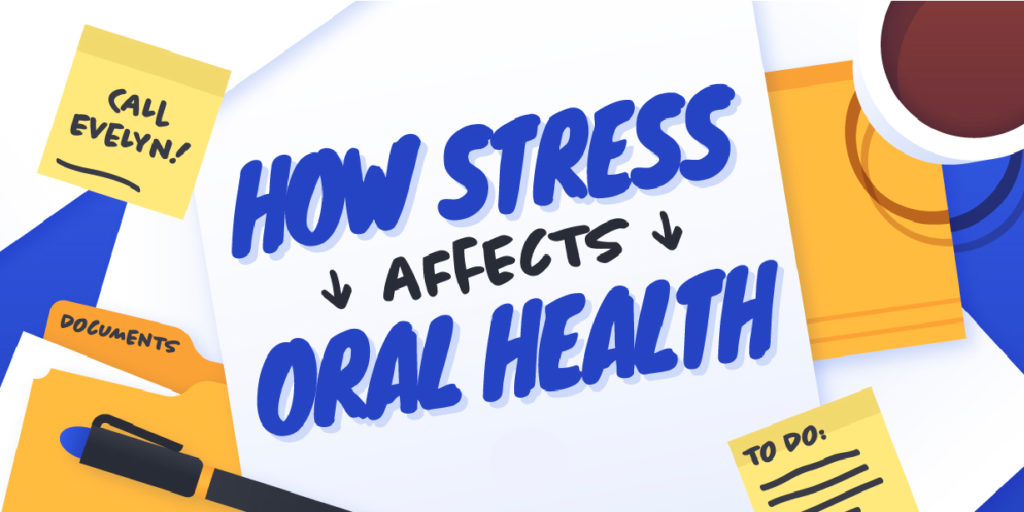 How Stress Affects Oral Health[/caption]
Let's face it parents, the month of December is usually packed with travel, family, and vacations! This can be a stressful time of the year. So this month we are going to focus on how to deal with stress.
Most of people know a thing or two about stress. Whether you're dealing with chronic stress, or a brief stressful life circumstance, we all encounter it from time to
time. Most people associate stress with major health issues, such as heart attacks or ulcers, but do you know how stress can affect your oral health?
Stress may negatively affect your oral health in indirect ways.
For starters, stress can cause folks to reach for coping strategies that aren't so good for
your teeth (or the rest of your body).
Junk food, sweets, sugary drinks, sodas, and chewing gum are just a few examples. When these substances interact with your teeth, they can do a lot of damage in the way of gum disease and tooth decay.
Secondly, when we are stressed, we tend to stop making positive health behaviors a
priority. Let's say you're traveling to a far off destination; your brushing and
flossing routine will not be forefront on your mind.
Even a minor bout of stress from a tough day can have us reaching for our cozy bed
and some relieve instead of taking the time to brush first.
And of course, keeping up with routine dental visits may fall completely off our
priority list while under stress. This can prevent us from finding the early signs of
decay and can cause more pain and stress later on.
How does stress affect our mouths directly?
Well, lots of people grind their teeth as a physical way to deal with stress, this is evident in children's teeth, too. You may be doing it without even realizing it! Ask a partner or someone who knows you well to tell you if you have this habit.
What does tooth grinding sound like?
It has been said that it sounds like nails on a chalkboard or someone chewing on rocks! Either one sounds extremely bad.
What can help relieve tooth grinding?
A nightguard MAY be a good option to relieve tooth grinding and thereby decrease some stress. Nightguards are custom made so that they do not flop in your mouth, while sleeping. They are made to cover either the upper arch or the lower arch of teeth. In either case, talk to your pediatric dentist, if your child or teenager has excessive tooth grinding.
Also, when we are stressed we have higher levels of stress hormones, such as cortisol
and adrenaline, that put our body in a "flight or fight" state. This causes our blood
pressure and blood sugar to increase, and our digestive and immune function to
decrease. When our immune system isn't functioning as it should, this can make
periodontal disease more likely. It can also slow down the healing of other oral issues
or injuries we may have.
What can you do about it?
The best thing you can do to prevent the stress of oral health issues is to maintain
good dental hygiene and visit us regularly for routine visits. We want what's best for
you — and that includes a healthy mouth for a lifetime!
All Smiles Pediatric Dentistry
At All Smiles Pediatric Dentistry, we incorporate proven techniques to share with you and your child at each dental checkup visit. Dr. Allen Job and his team are committed to providing the latest in oral health care prevention. For more information about improving your child's oral health check out our preventive dentistry page. Still want more information? Check out our monthly blog posts! Our practice is centrally located in San Diego, CA.
Get acquainted with us by watching our practice video and find out what we do.
Scheduling an appointment for your child is easy! Start here to schedule an appointment. All of our forms are online. Fill them out securely from your smartphone or tablet and hit send. On appointment day, your child will be seen at their scheduled time. For example, if you have a 9:00 AM appointment, your child will be seen at 9:00 AM.

Dr. Allen Job, DDS, MS, MPH, MS is a board certified pediatric dentist who practices in San Diego, California, where he specializes in prevention. He is also an assistant professor at Loma Linda University Department of Pediatric Dentistry.