[caption id="attachment_694" align="alignleft" width="589"]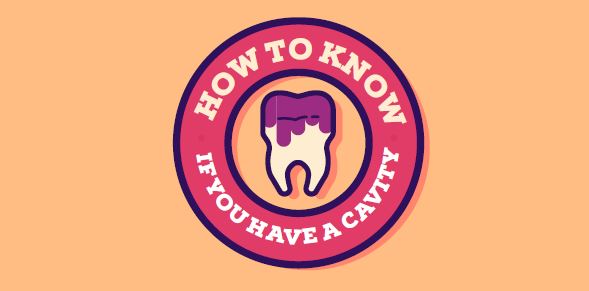 How to Know if You have a Cavity[/caption]
According to the National Institutes of Health, the most prevalent health condition after the common cold is tooth decay.
It's more than likely that if you haven't already had a cavity, you will develop at least one in your lifetime.  Dental decay in primary (baby teeth) teeth is more common than on permanent teeth.
Signs and Symptoms
So, how do you know if you have a cavity? Well, depending on the severity of your tooth decay, you may experience a variety of symptoms. Here are some of the accompanying symptoms that go along with tooth decay.
Nothing (in the early stages)
A toothache or spontaneous tooth pain
Tooth sensitivity
Pain (slight or severe) when eating something sweet, hot, or cold
Staining (brown, black, or white) on the surface of your tooth
Visible holes in your tooth. Those holes are cavities
Pain when biting down
The best time to catch a cavity is in the early stages, when there are few, if any, symptoms.
Treatment Options
We will let you know the best course of treatment for your particular situation. The recommendation could be as easy as using a fluoride prescription paste at night time to keep those cavities from growing, if they are diagnosed in the early stages.
Or, if you are symptomatic, we may have to formulate a more in-depth treatment plan.  Check out our treatment options page and find out how we can keep your child safe and comfortable during his/her treatment.
As always, brush twice a day with a fluoride toothpaste, floss at least once a day, and try to minimize the amount of sugar in your diet.
These steps will help you be proactive in preventing cavities.
Even better, your teeth will thank you for it!
All Smiles Pediatric Dentistry
At All Smiles Pediatric Dentistry, we incorporate proven techniques to share with you and your child at each dental checkup visit. Dr. Allen Job and his team are committed to providing the latest in oral health care prevention. For more information about improving your child's oral health check out our preventive dentistry page. Still want more information? Check out our monthly blog posts! Our practice is centrally located in San Diego, CA.
Get acquainted with us by watching our practice video and find out what we do.
Scheduling an appointment for your child is easy! Start here to schedule an appointment. All of our forms are online. Fill them out securely from your smartphone or tablet and hit send. On appointment day, your child will be seen at their scheduled time. For example, if you have a 9:00 AM appointment, your child will be seen at 9:00 AM.

Dr. Allen Job, DDS, MS, MPH, MS is a board certified pediatric dentist who practices in San Diego, California, where he specializes in prevention. He is also an assistant professor at Loma Linda University Department of Pediatric Dentistry.