[caption id="attachment_1064" align="alignleft" width="640"]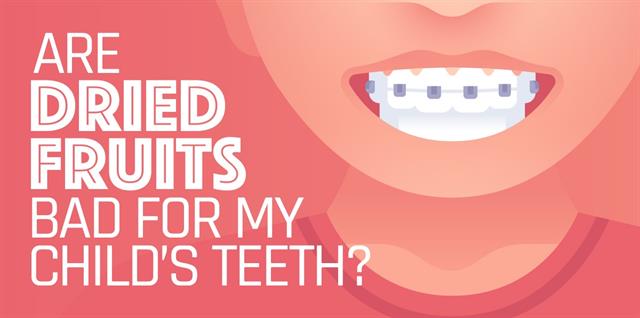 Are Dried Fruits Bad for my Child's Teeth[/caption]
Dried fruits are a convenient snack for busy families. Unless you're drying the fruit yourself (go you!), you don't have to wash or slice anything; just hand those kiddos a box of raisins and be out the door. Plus – you can feel good about adding to your kiddo's servings of fruits for the day.
But…what about all that sticky, sugary goodness? Isn't that a no-no when it comes to dental health? The quick answer is: it's complicated.
What is Dried Fruit?
Dried fruit is simply fruit that has had its water removed to some extent, leaving a shriveled, smaller version of its original form. Compared to fresh fruit, it's more shelf-stable.
Some forms of dried fruit have sugar added to improve taste or texture. And some dried fruit is encrusted with sugar crystals or chocolate. What we recommend offering to your kiddos is the plain stuff – no sugar added.
How Might Dried Fruits Affect Teeth?
Dried fruits contain sugar, and have a sticky texture. Anything that's sweet and sticks to your teeth for a long time has the potential to contribute to tooth decay. The longer that sugar sits on teeth, the happier your mouth bacteria are as they chomp away and produce the acid that can attack your enamel.
When we eat dried fruits, it's easy to go overboard on the sugar. Typically when we eat dried fruits, we eat a lot more than the equivalent amount of fresh fruit. A handful of dried apricots looks a lot like the same quantity in our eyes as a single fresh one.
But don't cross dried fruit off your shopping list just yet…
There are Benefits, Though
Dried fruits are still fruit, after all. That means they contain fiber, antioxidants, and other beneficial nutrients that are part of a healthy diet. Research tells us that some of these nutrients, such as polyphenols, actually help prevent the accumulation of plaque on teeth.
Other research theorizes that individual traits (such as the composition of bacteria in our mouths) have more to do with how a raisin will affect our teeth than the amount of sugar it contains.
You'd be surprised to learn how many other factors there are in relation to dried fruit's effect on teeth. All in all, it appears there is insufficient evidence to conclude that dried fruit is, in fact, bad for our teeth.
So…hooray! Because there is some evidence to point toward dried fruit being beneficial for oral health in some ways, as well as containing important nutrients for our bodies, we say it's a great option for hungry little tummies!
Again, you're better off sticking with dried fruits that don't have added sugars (though of course some yummy chocolate-covered fruits can be an occasional treat!). And offer some water to help wash anything sticky off teeth and down the hatch.
And, as always, maintain regular dental health visits with your child's dentist to make sure their teeth are in good shape!
All Smiles Pediatric Dentistry
At All Smiles Pediatric Dentistry, we incorporate proven techniques to share with you and your child at each dental checkup visit. Dr. Allen Job and his team are committed to providing the latest in oral health care prevention. Check out our monthly blog posts! Our practice is centrally located in San Diego, CA.
COVID-19 Precautions
Find out how we are protecting our patients and our staff with our improved safety protocol.
Get acquainted with us by watching our practice video and find out what we do.
Scheduling an appointment for your child is easy! Start here to schedule an appointment. All of our forms are online. Fill them out securely from your smartphone or tablet and hit send. On appointment day, your child will be seen at their scheduled time. For example, if you have a 9:00 AM appointment, your child will be seen at 9:00 AM.
Dr. Allen Job, DDS, MS, MPH, MS is a board certified pediatric dentist who practices in San Diego, California, where he specializes in prevention. For more than a decade, served as assistant professor for the Department of Pediatric Dentistry at Loma Linda University School of Dentistry (LLUSD). He is currently an instructor at LLUSD.