July 17th, 2019
[caption id="attachment_715" align="alignleft" width="612"]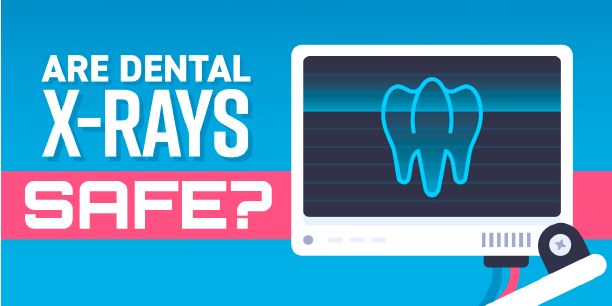 Are Dental X-Rays Safe?[/caption]
"Are Dental X-Rays Safe?" and Other Questions about Dental X-Rays
Some of the most common questions we get at All Smiles Pediatric Dentistry have to do with dental x-rays: Are they safe? Why do I or my kids need them? And how often should I get them?
These are great questions (and we love how much you prioritize your health). The answers can get complex quickly, so we'll do our best to cover the basics here.
Are Dental X-Rays Safe?
Let's start with the most important issue—safety.
Both the Food & Drug Administration (FDA) and the American Dental Association (ADA) test dental x-rays to make sure they're safe for patients of all ages. These governing bodies revise their guidelines when any advances in science and technology provide new methods to reduce
exposure.
Thanks to faster film speeds, digital X-rays, and protective aprons and thyroid collars, the X-ray of today is far superior to those of even just a decade ago.
This applies to children, too. Today's X-rays are so safe, in fact, that the amount of radiation a child is exposed to in an X-ray of the back molars is roughly equivalent to the amount of radiation they are exposed to in the environment on a daily basis.
Why Do You Need X-Rays?
X-rays, also called radiographs, help your dentist spot conditions, like cavities, tooth misalignment, and abscesses, that they can't see through a visual examination. X-rays are especially important for children because they are generally more susceptible to tooth decay than adults.
The benefits of X-rays, which include diagnosing decay, pathology, or any abnormalities, far outweigh the risks of exposure to this minimal dose of radiation.
How Often Should I Get Them?
Your X-ray schedule depends on a number of risk factors, including your medical and dental history.
Generally, patients without a history of cavities or dental disease are recommended to undergo one set of X-rays every 12 months.
The best way to reduce the number of X-rays you need is to follow good oral hygiene at home.
What type of dental x-rays do you offer?
Here, at All Smiles Pediatric Dentistry, we use digital xrays that emit the lowest radiation levels. Our hand-held x-ray unit looks like something Buzz Lightyear would use. It's called the Nomad.  Children don't feel intimidated by it since it looks less cumbersome and intrusive. We also use a digital panoramic x-ray machine to evaluate for growth & development and also for timing when to see the orthodontist or oral surgeon for those wisdom teeth.
Wondering When You're Due for X-Rays?
Contact us.  If your child hasn't seen the a pediatric dentist, then give contact us and we will help your child establish a dental home for future dental visits.
All Smiles Pediatric Dentistry
At All Smiles Pediatric Dentistry, we incorporate proven techniques to share with you and your child at each dental checkup visit. Dr. Allen Job and his team are committed to providing the latest in oral health care prevention. For more information about digital x-rays check out our website section. Still want more information? Check out our monthly blog posts! Our practice is centrally located in San Diego, CA.
Get acquainted with us by watching our practice video and find out what we do.
Scheduling an appointment for your child is easy! Start here to schedule an appointment. All of our forms are online. Fill them out securely from your smartphone or tablet and hit send. On appointment day, your child will be seen at their scheduled time. For example, if you have a 9:00 AM appointment, your child will be seen at 9:00 AM.
Dr. Allen Job, DDS, MS, MPH, MS is a board certified pediatric dentist who practices in San Diego, California, where he specializes in prevention. For more than a decade, served as assistant professor for the Department of Pediatric Dentistry at Loma Linda University School of Dentistry (LLUSD).  He is currently an instructor at LLUSD.